Since 2000, E-Technical Staffing, Inc. has partnered with some of the best companies in the U.S. By placing quality personnel in positions that maximize productivity, we help businesses achieve greater efficiency and reduce workforce costs, enabling them to concentrate on core strategies and innovation.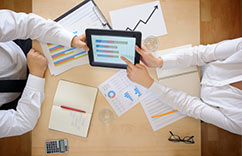 We are a full-service technical staffing firm that provides talented candidates to meet our customer's needs. We specialize in placing individuals in engineering, design/drafting, computer support, manufacturing/production and professional/management positions in both small and large companies. Our focus in these areas allows us to provide efficient and effective solutions for both employees and employers.
Started and founded as a locally owned staffing firm based in Minnetonka, we have extensive knowledge of the technical recruiting industry in the Twin Cities area. In 2022, E-Technical was acquired by Ohio-based AIM Technical Consultants, Inc. which immediately gave us national staffing services coverage. Our focus is always on our clients' needs and goals, so we always strive to provide the highest quality workers in the quickest manner possible.
Whether you're searching for a talented individual to help your company, or you're a qualified candidate searching for a new position, E-Technical Staffing is ready to work for you.